Applying vitamin C after dermaplaning can significantly boost the anti-aging benefits of the procedure. What type of serum is best and how to use it safely.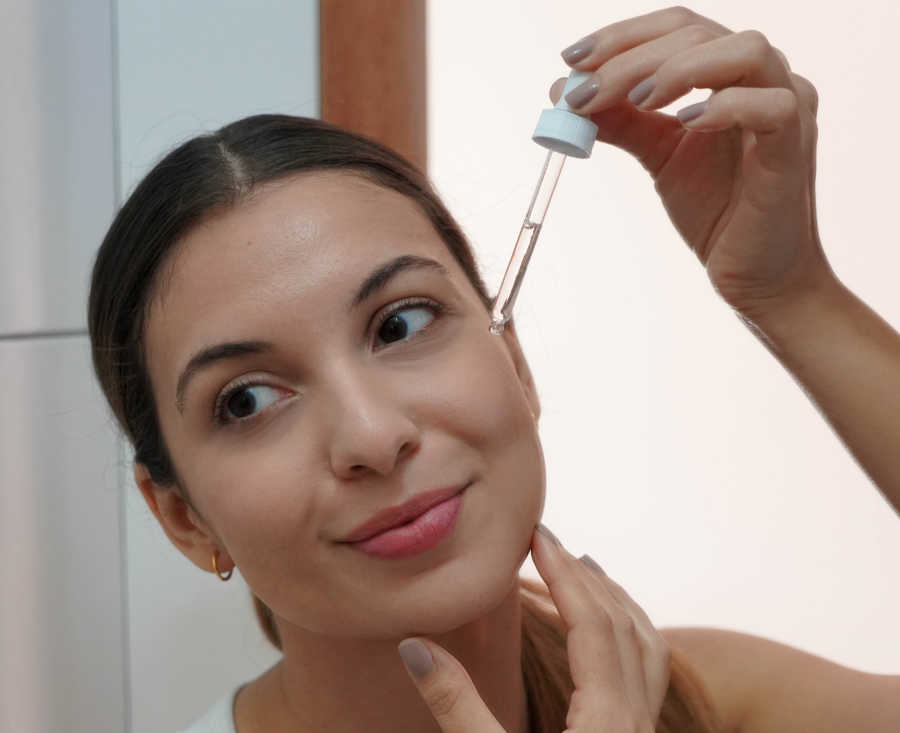 Using vitamin C serum after dermaplaning seems like a smart move, doesn't it? 
Since your freshly exfoliated skin is all prepped and ready, it's the perfect time to soak up this powerful antioxidant. It's like giving your complexion an extra boost of radiance.
But keep in mind, not all vitamin C products are created equal. Some formulations can be too harsh for recently exfoliated skin.
Let's look at all the benefits of using vitamin C right after dermaplaning, how and when to apply it. And get tips on selecting the best products to enhance and protect against irritation or stinging.
What does Dermaplaning do?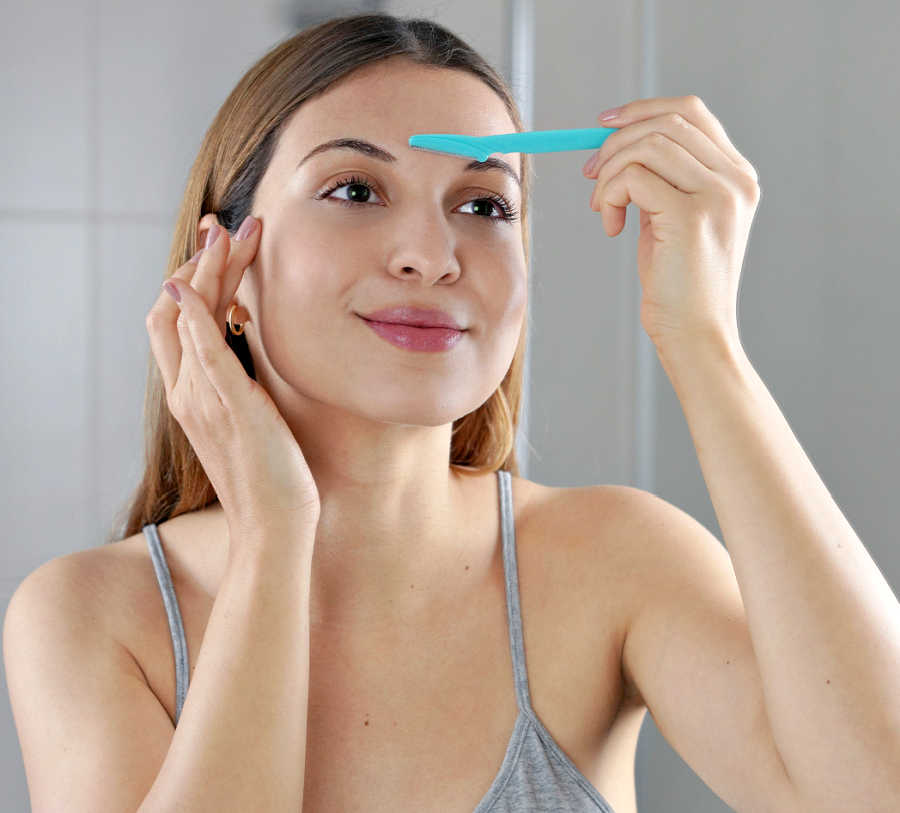 Just a quick rundown of what it is:
Dermaplaning, also referred to as dermablading, is an intense exfoliating treatment using a thin surgical like scalpel to gently scrape dead skin cells off the top layer of your complexion.
This process helps removes dead skin cells and peach fuzz, and leaves your face incredibly smooth.
Learn how you can do this exfoliating treatment yourself at home. 
It also helps your skin absorb the beneficial components of creams and serums, enhances makeup application, and gradually contributes to an overall brighter complexion.
However, it can (temporarily) weaken your skin's protective barrier and make it more sensitive. That's why you have to be careful about what you put on your face right after treatment.
Your top priorities should be holding onto moisture and protecting your fresh skin.
Benefits of vitamin C serum right after dermaplaning
Apply vitamin C serum after treatment can help protect the skin barrier and offer multiple anti-aging benefits, by:
reducing dark spots and uneven blotches for a smoother complexion
enhancing absorption and penetration of vitamin C and other creams
improving efficiency in how vitamin C  and other creams works
kicking up collagen production to protect against lines and wrinkles
providing powerful antioxidant defense against premature aging
How-To: Apply vitamin C after dermaplaning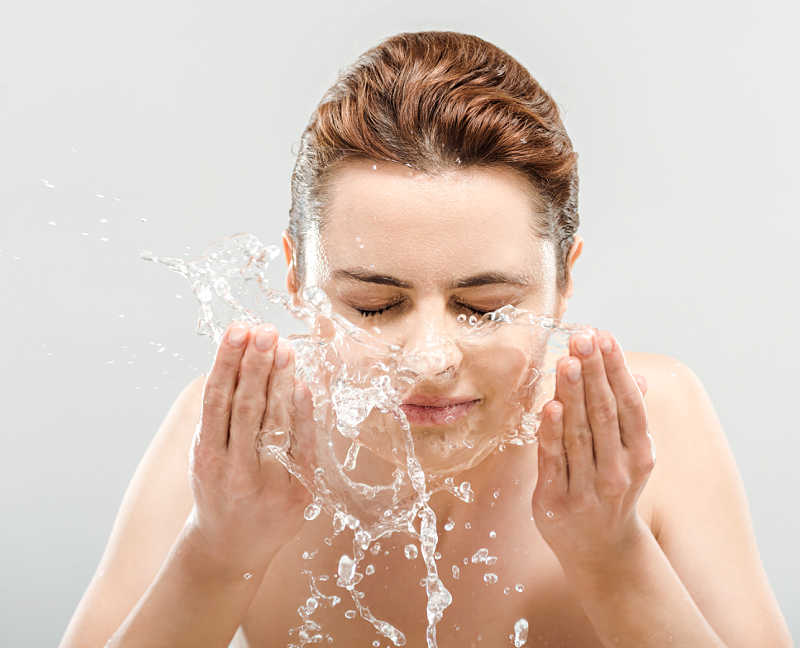 Here's a simple rundown of how to use vitamin C serum after dermaplaning:
1. Rinse and dry: Rinse your skin with cool water, and pat dry. Rinsing helps remove left over dead skin cells and peach fuzz. No need to cleanse since your face was cleansed and prepped before dermaplaining.
Note: Plus, the cool water feels SO good, since your face may feel a bit warm after treatment
2. Apply Vitamin C Serum: Place a few drops of the serum on your fingertips and gently spread it all over face and neck. Use your fingertips to gently massage the serum into your skin. 
3. Let Dry: For best absorption, allow the serum to dry and fully absorb for a few minutes.
4. Moisturize: Now apply a super hydrating moisturizer to lock in all the goodness and keep your skin hydrated.
5. Avoid Other Products: For best results, consider doing this treatment in the evening. This way, you can skip the sunscreen and makeup routine. This allows your freshly exfoliated skin to fully soak in the benefits of the vitamin C and moisturizer while giving it some well-deserved downtime.
Tips: What type of vitamin C serum to use
It's important to use the right serum for your skin type to avoid irritation and discomfort.
Irritation and inflammation can lead to premature aging!
Follow these tips to find one that best suited for your complexion:
Normal: If your complexion is not sensitive and/or you've used strong serum solutions before, then consider trying a serum crafted with a 20% solution of L-ascorbic acid. This is the most powerful type of vitamin C, and offers impressive anti-aging advantages.
Sensitive: Those with a sensitive complexion should consider a 5-10% solution serum. It's gentle enough not to irritate, but still effective enough to help brighten and reducing hyperpigmentation.
Dry, Damaged or Mature: If your skin is thin, crepey, or lacks moisture, then look for serums that offer extra hydration. Serums that also contain hyaluronic acid is a great option.  
Suggestion: Zenmed Vitamin C Booster. Just apply a few drops of this vitamin C booster to your favorite hydrating moisturizer. In fact, you can a few drops into any skincare product any time you want extra vitamin C! 
Note: My skin isn't usually sensitive, but after doing some at-home dermaplaning, my face ends up feeling all warm, raw, and touchy. Even putting on makeup becomes this uncomfortable thing. So, if you're going for a 20% l-ascorbic acid serum, keep an eye out for ones with added hydrating oils and soothing stuff – your skin will thank you for the extra love. 😘
Vitamin C Serum After Dermaplaning: Summary
Adding a vitamin C serum after every dermaplaning treatment can seriously level up the anti-aging benefits. Vitamin C is the best natural way to get a brighter, smoother complexion!
And, intense exfoliating treatments (like dermablading) helps remove brown, age spots and discoloration even more quickly. So, it's a win-win combination.
Just be sure to select the right serum for your type and complexion. Remember, you want to avoid any irritation, inflammation, or discomfort as this will only age your complexion faster.
---
Applying vitamin C serum after dermaplaning
A: No. It's best to always dermaplane on a clean, dry skin. If you have extra sensitive skin, you can apply a small amount of face oil to improve the glide of the blade.
A: You can apply hyaluronic acid which can help moisturizer your face. But avoid harsh acid serums like alpha hydroxy, glycolic acid and retinol serums.
A: Skip the strong cleansers, serums, and scrubs. Opt for soothing, gentle hydration since your skin gets extra sensitive in the 24-48 hours post-dermaplaning. Visit this page to find out how to care for your face after dermaplaning at home.
A: The best hydrating serum can vary from person to person, since everyone's skin is different. However, always look for a serums that are gentle and rich in moisture-retaining components like hyaluronic acid, essential fatty acids, oils and ceramides.

Read the post above for some great vitamin C serum selections for sensitive skin.
A: Test a small area first to make sure it's hydrating enough and the vitamin C solution is not too strong. Vitamin C is acidic, so even if it's in an oil base, it could still irritate sensitive skin. It should state that it's a hydrating skincare product somewhere on the label for best results.
A: Never use retinols after dermaplaning! Retinols are exfoliants too. And using them after dermaplaning can cause irritation and dry skin. You should wait several days before using retinols after dermaplaning.
---

Check us out at these locations: