Blake Lively is a master of mixology!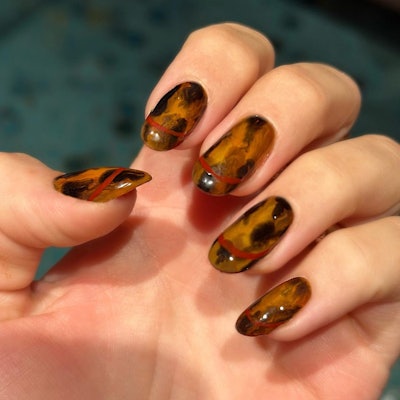 And that applies to drinks and nail colors. Lively recently received a custom tortoise shell manicure from celebrity nail stylist Elle Gerstein, who shared with Nailpro how she created the striking design.
"To get the look of tortoise shell, you need a sheer amber color, a deep chocolate and a black," says Gerstein. "To create the amber, I used a sheer, jelly orange shade combined with a yellow sheer. If you can't find jelly-like colors, you can add clear polish to your color to make it sheer and glass-like."
Gerstein continues, "Start with a layer of the sheer shade, then use your chocolate and black shades to create the dimension of the tortoise shell. Continue layering the amber color you created to darken it. Because you're using sheer colors with the dark shades, it gives dimension and depth to create the look."
Gerstein revealed that Lively herself mixed various gel shades to create the custom cinnamon color Gerstein used to apply the smile line.
Gerstein used products from LeChat Nails for Lively's nail design. 
Follow us on Instagram and subscribe to our free daily newsletter to receive the latest news for nail professionals.